Mercy Place Lynbrook is a state-of-the-art home providing high-quality care and accommodation. A light-filled, welcoming home, you'll enjoy entertaining family and friends, be it in our sensory gardens and landscaped courtyards, or our stylish lounge areas with large-screen TVs.
Relationships are central to our model of care, and we'll work with you to ensure you maintain the community connections you cherish. Our home features four intimate households, so you can build meaningful relationships with those around you.
Mercy Place Lynbrook has a dedicated on-site kitchen where all meals are freshly prepared, a beautiful chapel with stained-glass windows, a spacious community room with a vast array of planned activities, and a hairdressing salon.
Visiting hours may have changed due to the coronavirus pandemic. Please call the home for details.
Book your tour of Mercy Place Lynbrook
Arrange to visit for a cup of tea and a tour, and get to know the friendly faces at Mercy Place Lynbrook! You'll meet our Resident Liaison Officer to explore our home and the surrounding area, and find out more about moving in. Just fill out the form and we'll be in touch.
Ageing in place
Our homes offer you the security and comfort of 'ageing in place'. Regardless of your care needs now, or how they may develop in the future, you can continue to live at our home and access the care you need while maintaining your quality of life.
Allied health
Allied health describes the range of health professionals involved in your care who are not doctors, dentists or nurses. Allied health includes services such as podiatry, occupational therapy, physiotherapy, speech therapy and dietary advice.
Audiology
Audiology involves treatments to improve communication and participation for people with hearing loss, to promote a fuller and more enjoyable life. It can also help with conditions affecting balance.
Dietitian-curated meals
Our nutritionally balanced menu is developed under the guidance of a dietitian and changes seasonally. All meals are cooked fresh daily and we are happy to accommodate special dietary needs for religious, cultural, ethical or medical reasons.
Eye health and ophthalmology
Access ophthalmology services to treat eye and vision-related conditions or disorders.
Hair and beauty salon
A hairdresser regularly visits our salon to keep you looking and feeling your best.
Leisure and lifestyle activities
Wherever possible, our lifestyle therapy team supports you to pursue your interests and actively participate in life. We invite you to enjoy a range of social, cultural and physical activities and to suggest any we do not currently offer. Please note, some activities may incur a charge.
Pain management
We offer a range of professional services to ease pain, improve quality of life and reduce symptoms and discomfort associated with ongoing illnesses or disorders.
Palliative care
For those nearing the end of life, our palliative care team works with family and friends to offer physical, spiritual, emotional and social support.
Pastoral care
Pastoral Care Associates can offer you and your loved ones spiritual and emotional support. We can also coordinate prayer groups or church services, including regular Mass, sacramental care and denominational services.
Pet-friendly environment
Pet therapy is known to inspire greater physical, cognitive and emotional wellbeing. On-site and visiting pets are a vital element of our home environment. If you're considering a move to our home, contact the Service Manager to discuss bringing your pet with you.
Physiotherapy
Physiotherapists help people move more easily and improve their physical ability. You may undertake physiotherapy as part of a high-care plan or rehabilitation program. If you're generally well and would like access to physiotherapy services, or if you have higher needs and require extra support, you can arrange for your preferred therapists to visit on a fee-for-service basis.
Podiatry
Podiatry services are available for medical conditions affecting the foot, ankle and leg. Our local allied health therapists can provide podiatry in the home as part of a high care plan. If you're generally well and would like these services, or have higher care needs and seek extra allied health support, you can arrange for your preferred therapists to visit on a fee-for-service basis.
Religious services
Chaplains visit our home, and are available on-call for pastoral ministry and specific religious rituals. We can also arrange pastoral care from a religious representative from your own faith for your convenience.
Respite care
We can provide support to your family and other primary carers who need additional assistance, or who simply need a break and time to themselves. Our home offers respite care in the form of short-term accommodation for your family members or primary carers.
Speech pathology
Our home offers speech pathology services to assess, diagnose and treat communication or swallowing disorders. Our local allied health therapists can provide speech pathology services in-home as you require, or as part of a high-care plan. If you're generally well and would like speech pathology, or have higher care needs and seek extra allied health support, you can arrange for your preferred therapists to visit on a fee-for-service basis.
Volunteer services
Our home benefits from many skilled volunteers. Whether it be driving a bus, sharing gardening skills, reading a book or newspaper to one of our residents, playing cards, or just having a chat, volunteers bring a spark into our home with infectious enthusiasm. If you would like to contribute to our home as a volunteer, please get in touch. As with everyone who works within our homes, volunteers are required to complete a police check and attend a Mercy Health induction.
Dementia care unit
A dedicated memory unit is available within the home providing specialist care for people living with dementia or memory loss. We partner with you and your loved one to get to know their personal story so daily life and activities can be tailored to suit their specific needs and interests.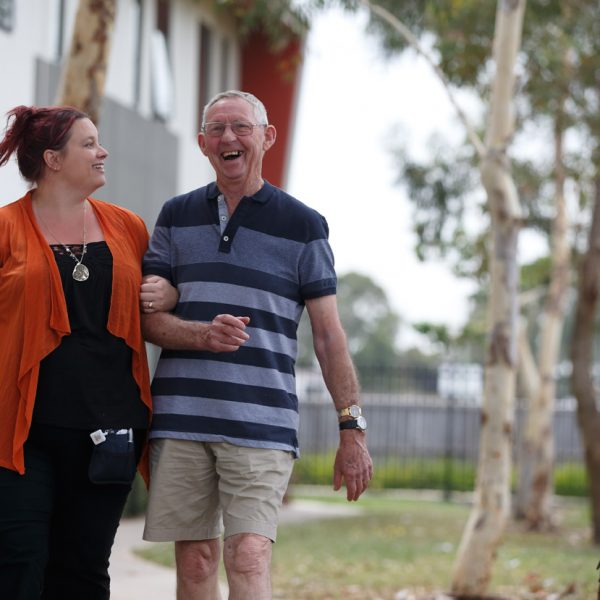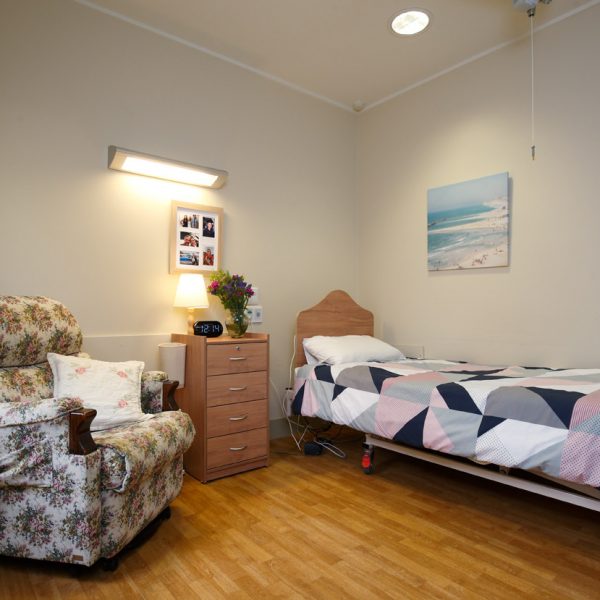 Aged Care Accommodation
Our stylish, contemporary rooms feature quality furniture and fittings and private ensuites. You'll enjoy all the comforts of home with electric height-adjustable beds, wall-mounted TVs, built-in wardrobes, ceiling fans, hydronic heating and shelves for personal items. A 24/7 nurse call system is available in all rooms, giving you and your loved ones peace of mind. Add a touch of luxury by choosing a spacious room full of natural light.
Rooms
| Type | Room | Bathroom | Size | Features |
| --- | --- | --- | --- | --- |
| Deluxe | Single | Private | 17m² | Views |
| Deluxe+ | Single | Private | 17m² | Views |
| Premier | Single | Private | 17m² | Views, neighborhood, garden or courtyard views and close to sitting rooms. |
Accommodation details and pricing
Food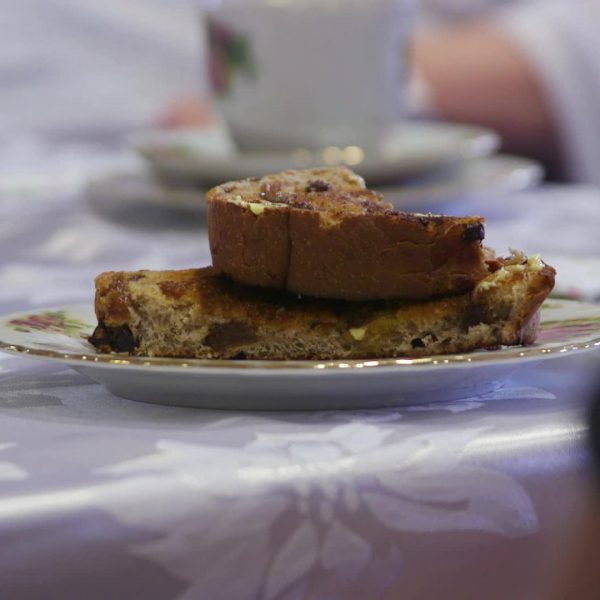 Well-balanced, tasty and nutritious meals are always on the menu at Mercy Place Lynbrook and we cater for all dietary and cultural requirements. All food is prepared in our on-site kitchen and you can savour your meals in our dedicated dining room.
Breakfast consists of:
hot porridge
variety of cereals including Weet-Bix, Rice Bubbles, Just Right and Corn Flakes
selection of fresh juices
cold continental breakfast
fresh fruit
freshly made toast with a choice of quality spreads
hot beverages including coffee, tea and Milo
eggs and bacon once a week
string hoppers once a week (Indian/Sri Lankan rice dish)
Traditional lunches include:
Sunday hot roast carvery
lamb and rosemary hot pot served with crusty hot bread rolls
red wine braised lamb shank served on garlic mash potato
baked seafood mornay topped with a herb crust or baked seafood crepe
pesto chicken breast
braised French onion forequarter chops
traditional cottage pie
butter chicken with roti bread and rice
traditional Friday fish and chips.
Desserts include:
homemade lime cheesecake
passionfruit panna cotta
mousse
crumble
trifle
rice custard
fresh fruit pavlova.
Lighter meals include:
homemade soups made from seasonal produce
sardines and tomato on toast with balsamic glaze
eggs benedict topped with hollandaise sauce
Indonesian-style fried rice with satay chicken
quiches
burgers.
Facilities
Mercy Place Lynbrook is a safe, comfortable and caring home. Set amid lovely landscaped courtyards and a sensory garden, our recently refurbished home includes:
four separate households, each with their own living and dining areas
stylish lounge areas with large-screen TVs
a beautiful chapel with stained-glass windows, hosting regular services.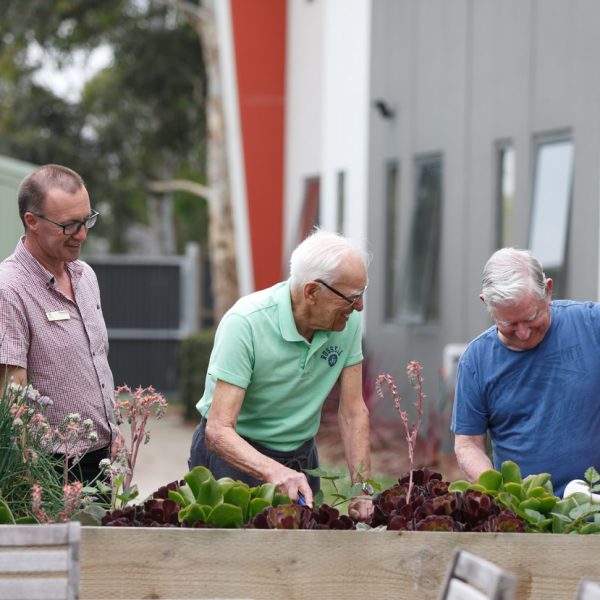 Aged Care Lifestyle and Community
We make it our mission to help you enjoy life, stay active and do the things you love, as well as trying new things with new friends. We will work with you to choose social and lifestyle options that suit you. Rather than fitting in with our program, we'll help you create a lifestyle you love. Tell us about your interests and hobbies, and we will take care of the rest.
Residents at Mercy Place Lynbrook are provided with additional services that complement our existing high-quality care and let you add a touch of simple luxury to your life every day. Click here(opens in new window) to view the full list of services and their cost.
In the area
Lynbrook Village Shopping Centre 2km
Lynbrook Hotel 2.7km
Banjo Patterson Lake 2.4km
The Drum Theatre 10km
Westfield Fountain Gate Shopping Centre 8.9km
Dandenong Market 9.4km
St Kevin's Church 7.5km
Gurdwara Nanaksar Thath (Sikh Temple) 0.3km
Myuna Farm 6.7km
Available activities
Enjoy the following activities at your home:
There's always something happening at Mercy Place Lynbrook. Our residents enjoy high tea, happy hour, entertainers, a men's group, inter-generational programs, a literature review club, bus outings, art and crafts, cooking, gardening, Montessori programs, board games, quizzes, daily news updates, a walking club, exercise groups and shopping tours.
Transport
Bus 893 from Dandenong Railway Station to the corner of Gippsland Highway and Evans Road.
Our home is an 18-minute walk from Lynbrook Railway Station down Aylmer Rd to Evans Road.
Directions and parking
Mercy Place Lynbrook is 750m from South Gippsland Hwy via Evans Road.
There is ample on-site parking at Mercy Place Lynbrook. There are two disabled car spaces as well as visitor parking.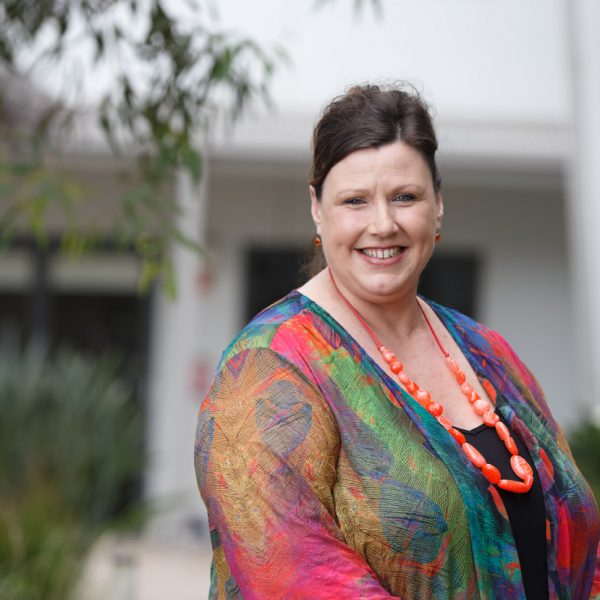 Meet Tania
As a treasured member of the Mercy Place Lynbrook community, you have a dedicated Service Manager.
My favourite thing about Mercy Place Lynbrook is that staff really know the residents who live here, the meaningful relationships that they establish and the sense of empowerment the residents feel.
What next
Moving into an aged care home can be a challenging and emotional time for you and your loved ones. We're here to help.
There are some steps you can complete at any point — even before you've decided on your home — to make things easier.
Confirm the details of your finances
By confirming the details of your finances through completing certain forms and choosing your specific room, you can ensure you pay the correct costs and receive the right care from the moment you move in.
Learn more about confirming the details of your finances
Understanding the costs
Once you've chosen your home, it's natural to start thinking about the costs involved.
How much will I have to pay? What is covered? Are there flexible payment options? Find the answers to your questions and get familiar with the costs.
Ask about life at Mercy Place Lynbrook
If you have any questions about life at Mercy Place Lynbrook the process of preparing for a move, or anything else, please get in touch and let us know. We'll find the answers and be in contact with you shortly.
Mercy Place Lynbrook
500 Evans Road
Lynbrook VIC 3975
We constantly look for ways to improve the care and service we deliver. Your feedback is valuable and is one way we can find out how we are doing and what we can improve. Complete our online feedback form to provide your comments.
Last reviewed June 25, 2018.
Mercy homes nearby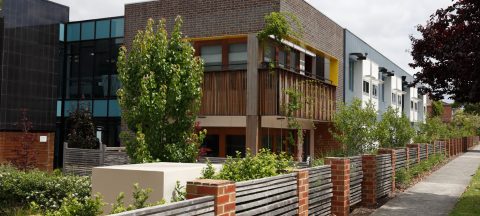 Mercy Place Dandenong
Mercy Place Dandenong is a warm and friendly home welcoming people from all cultures and walks of life.
Mercy Place Dandenong